Founded in 1866, Fort Bayard at first provided security (mainly by African-American "Buffalo Soldiers") against Native American attacks on settlers during the settlement of the region in the 19th century. It was then converted into the army's first tuberculosis sanitarium, and later became a VA hospital. The site was designated a National Historic Landmark District in 2004.
The mission of the Fort Bayard Historic Preservation Society is to educate the public about Fort Bayard's remarkable history through the promotion of the preservation, interpretation, and restoration of Fort Bayard National Historic Landmark.
Among the steps we take to achieve our mission is the collection, exhibition, and interpretation of artifacts and documents relating to its history, and the creation and implementation of programming to inform the public about Fort Bayard.
Guided Tours
Enjoy our guided tours at the Fort Bayard Museum & National Historic Landmark each Saturdays and Sundays from 10am – 2pm or special tour arrangements may be made by appointment.* Tours are led by Society members knowledgeable not only in the history of the fort and hospital, but in the broader history of the Southwest.
Guests are requested to meet in front of the Commanding Doctor's Home and Museum, along the west side of the Parade Ground.
*For further information, or to book a large group tour on a specific date, interested parties may contact:
Doug Dinwiddie at 575-388-4862
Cecilia Bell at 575-388-4477
Becky Dinwiddie at 970-222-5084.

"Where am I to Go?"
Following the Civil War, General Carleton requested that a new fort be established in what is now southwestern New Mexico, in the heart of the Apache homeland. Its mission would be to protect the miners, ranchers, and emigrant and business trails.
Doug Dinwiddie, Ansel Walters, and John Bell discuss the history of Fort Bayard in a podcast initially aired February 11, 2023.
Archives
The Fort Bayard Historical Preservation Society operates a library/archive facility, located in the Santa Clara Armory Building at 11990 US Highway 180 near the Village of Santa Clara. This facility is available for researchers by appointment. To make an appointment, please call 575-388-4862 or 575-388-4477.
News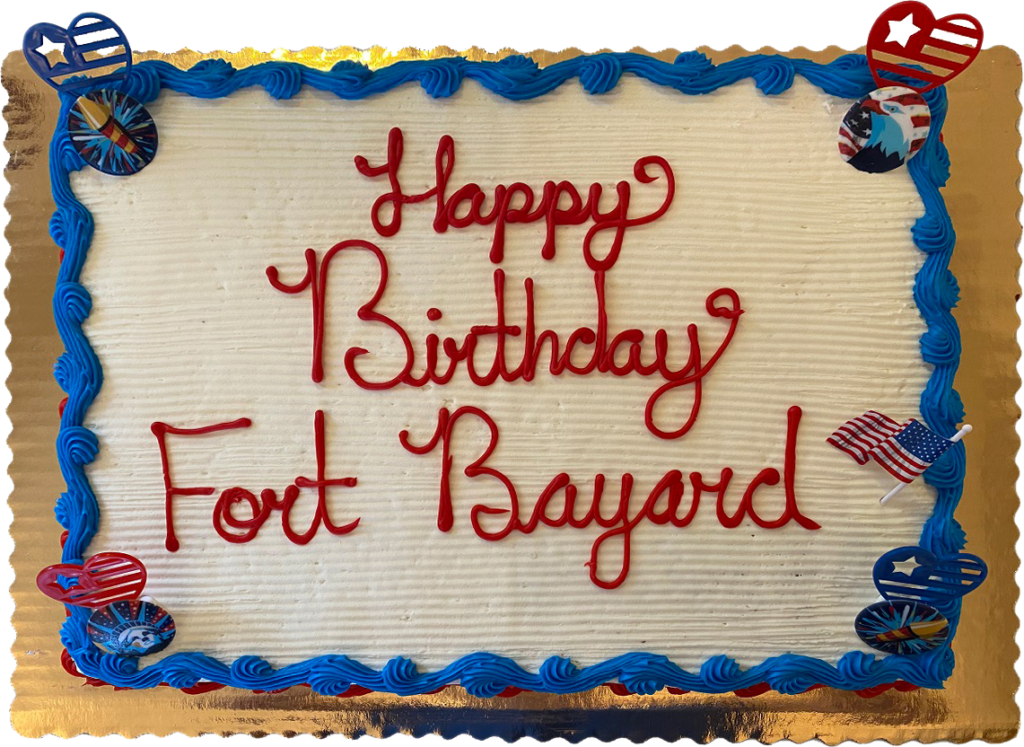 The Fort Bayard Theater hosted the fort's 157th birthday party on Aug. 19, 2023. The official date of founding is Aug. 21, 1866. The celebration included a review of an overview of the Buffalo Soldiers from the 125th Colored Infantry, who constructed the first buildings at the site, by Fort Bayard Historic Preservation Society (FBHPS) President Douglas Dinwiddie, and a showing of the movie "Fighting on Two Fronts: The Buffalo Soldiers" produced by the Public Broadcasting System.
There's a fine article about the event in the Grant County Beat.
Upcoming Events
Fall Film Series
"As Fate Would Have It: Survival Stories in Film"
Free movies at the Santa Clara Armory Thursday evenings from August 31 to November 16, 2023. See our Events Calendar for more information!
Raffle Winner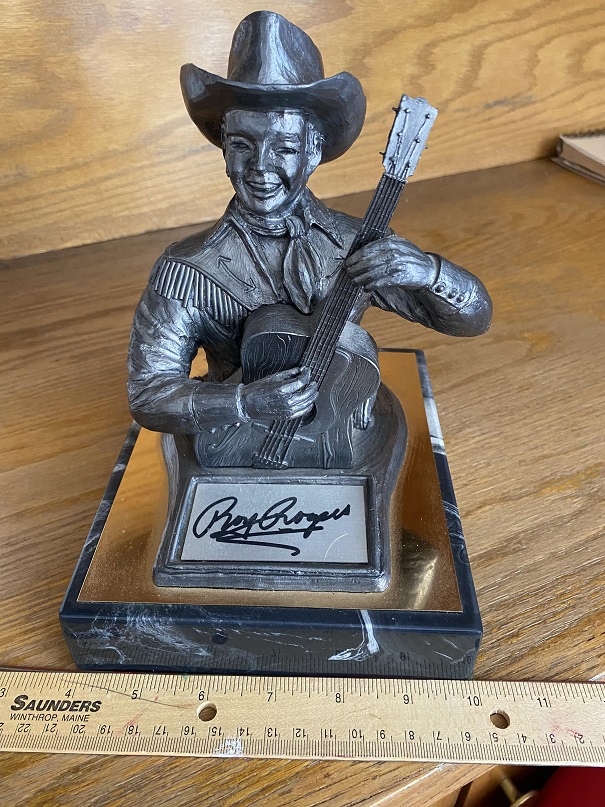 The beautiful limited edition pewter sculpture "Roy Rogers" has a new owner! The statue, autographed by Roy Rogers, was donated by Karl and Barbara Giese to the FBHPS as a fundraiser. Dave Rose of Silver City was the lucky winner.
---
World War I Era Photos Donated
The FBHPS has just received a generous donation of historic Fort Bayard photographs from Mr. Chuck Martin of Maryland.  The photos date from the era of World War I, and were taken by Army PFC C.E. Titus, when he was assigned as a staff member at the Fort Bayard Army Hospital.  Mr. Titus had given the collection to his sister Mamie Parker (1888-1966), and eventually passed into the possession of Mr. Martin, who then in turn passed them on to us.  The collection, which numbers over 100 images, also includes photos of several surrounding communities and places of interest.  Once they have been catalogued, the images will be used in exhibits, interpretive signs, and added to our organization's research archive.  Below are two pictures from this collection.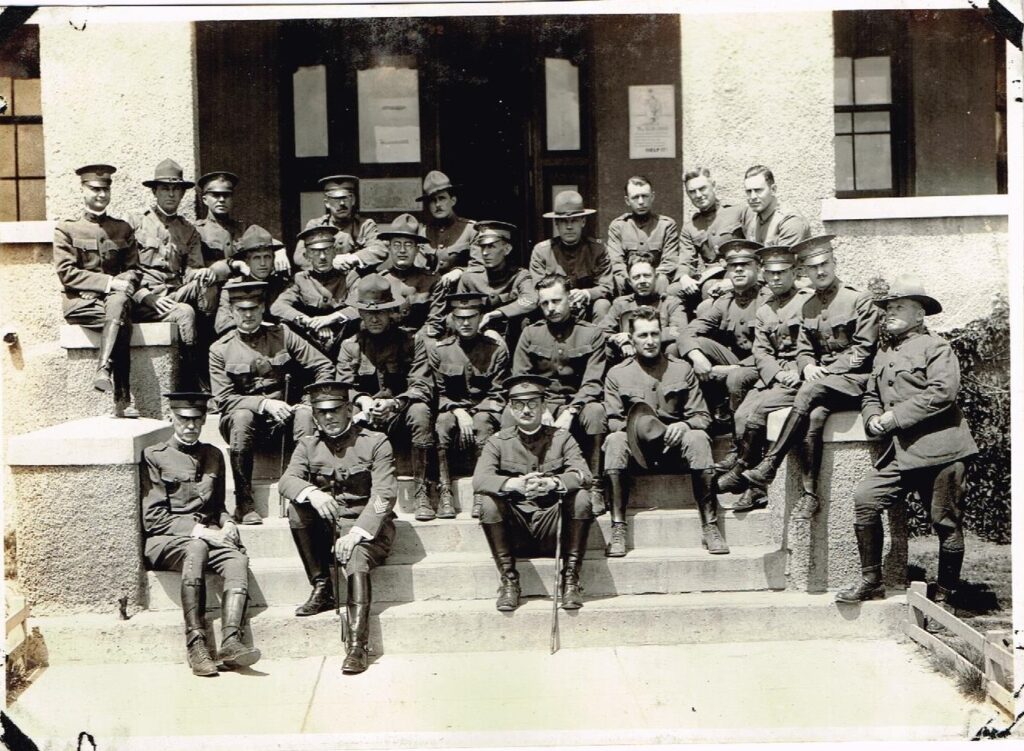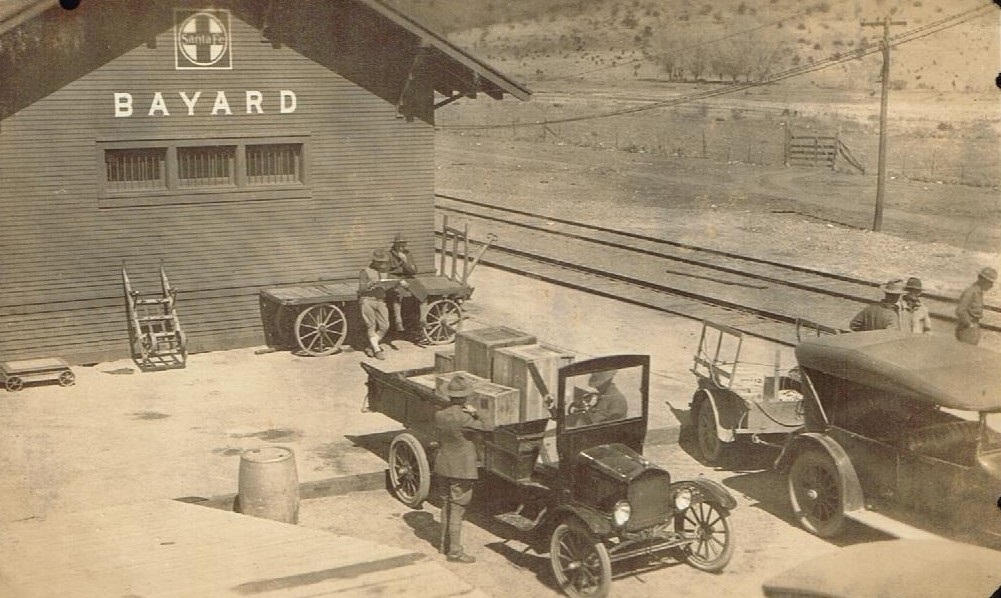 ---
Would You Like to Be Part of Our Efforts?
If so, there are many different ways that you can help:
Become a dues paying member of the organization
Actively engage in our operation by volunteering your time as a tour guide, collections curator, living history performer, building and grounds worker, records keeper and researcher, and many more options
If you would like to help, but feel like you need training, no worries, as that will be provided!
Members Make a Difference!
Not a Member? It's easy to join! Click the Online Membership Application now!
Members receive a 10% discount at our gift shop!